2015294 PROPAK SCOTT HARD BACKPLATE (V1) TYPE 2 WITH FACEMASK & 45 MIN. CF CYLINDER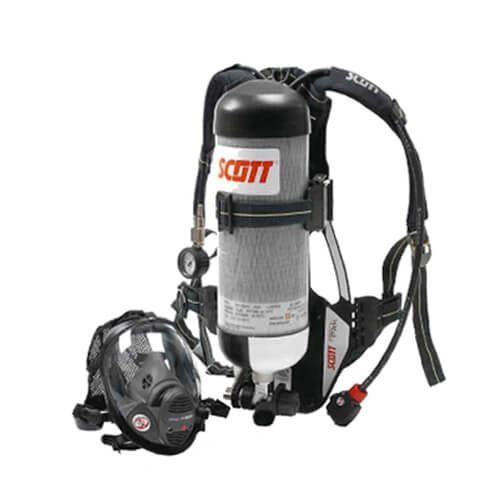 2015294 PROPAK SCOTT HARD BACKPLATE (V1) TYPE 2 WITH FACEMASK & 45 MIN. CF CYLINDER
BACKPLATE
ProPak self contained breathing apparatus for single cylinder use,comprising
lightweight anti-static composite backplate with Kevlar cylinder band and
fully adjustable padded body harness:
Two stage pneumatic system comprising Tempest automatic positive
pressure demand valve with bypass,shoulder mounted pressure indicator and
55 bar warning whistle:
First stage extended pressure reducer with ancillary high pressure port and
single high pressure cylinder connector.
Harness fabricated from 100% Kevlar material and featuring lumbar back
pad. Apparatus accepts full range of Scott breathing apparatus cylinders
from 4.7 to 11.0 litres capacity,200 or 300 bar.
Apparatus is CE Marked to EN137:2006 Type 2.
MADE IN UNITED KINGDOM
FACEMASK
Vision 3 positive pressure facemask featuring Torodial visor for improved vision. Silicone outer mask andTPE inner mask. Left sided quick fit connection for demand valve. Medium/Large, Net head harness. CE marked to EN136.
CYLINDER 45 MIN
CYL-FWC-1800 9.0 litre, 207 bar, carbon fibre fully wrapped aluminium composite cylinder, CE specification, cylinder design life 15, years complete with cylinder valve incorporating safety locking handwheel 1800 litre free air capacity providing total duration of 45 minutes* Dimensions: 172mm diameter x 630mm long. Fully Charged Weight - 6.8kg