2031828 SIGMA-2-PM (TYPE 2) WITH PROMASK, Scott 2006641 CYL-FWC-1800 45 MIN CARBON FIBRE (SET) -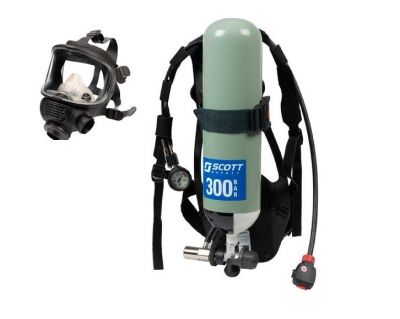 2031828 SIGMA-2-PM (TYPE 2) WITH PROMASK, Scott 2006641 CYL-FWC-1800 45 MIN CARBON FIBRE (SET) -
BACKPLATE
SIGMA-2 is a self contained positive pressure breathing apparatus complete with Promask positive pressure facemask in black Neoprene, moulded composite backplate with fully adjustable harness and infinitely adjustable Kevlar webbing cylinder band.
The backplate is injection moulded from a mineral carbon filled anti-static polyamide composite material. The fully adjustable body harness is fabricated from a flame retardent Kevlar blend webbing.
Buckles and fittings are injection moulded from a corrosion resistant polyamide. The two stage pneumatic system features a first breath activated positive pressure demand valve, a first stage pressure reducing valve with an integral 200/300 bar cylinder connector and a shoulder mounted pressure gauge with 55 bar whistle. The SIGMA-2 Type 2 will accept all Scott B.A. cylinders Apparatus is CE Marked to EN137:2006 Type 2 and MED approved
PROMASK FACEMASK
Promask incorporates a wide panoramic visor to maximise the field of vision and a front mounted speech diaphragm for easy communication with colleagues. An optional hard coated visor is available to enhance resistance to scratching. The clear inner mask increases wearer acceptability and presents a user-friendly appearance to others.
CYLINDER
CYL-FWC-1800 9.0 litre, 207 bar, carbon fibre fully wrapped aluminium composite cylinder, CE specification, cylinder design life 15, years complete with cylinder valve incorporating safety locking handwheel 1800 litre free air capacity providing total duration of 45 minutes* Dimensions: 172mm diameter x 630mm long. Fully Charged Weight - 6.8kg