310000 GMI 3M SCOTT Gas Detector PS200 1-Gas LEL Pumped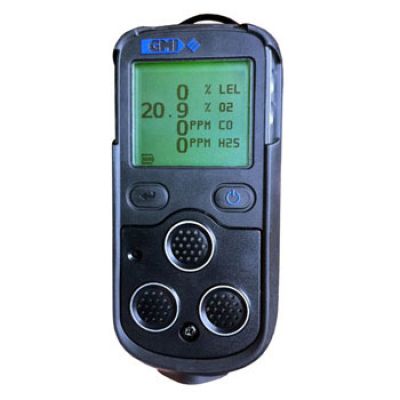 310000 GMI 3M SCOTT Gas Detector PS200 1-Gas LEL Pumped
A robust and accurate portable gas detector, the Personal Surveyor (PS200 Series) provides unrivalled protection in confined space applications with audible and visual alarms in the event of exposure to flammable or toxic gases.
Detecting and displaying up to 4 gases simultaneously, PS200 is suitable for a host of applications in a variety of industries. The PS200 can be configured to detect a combination of Methane, Oxygen, Carbon Monoxide, Hydrogen Sulphide, as well as other flammable gases.
Pre-entry checking can be carried out with the optional internal sampling pump, and diffusion operation ensuring maximum battery life in confined spaces.
• Simple 1-button operation
• Any combination of (LEL/O2/CO/H2S)
• Audible, visual and vibrating alarms
• Fully certified
• Internal pump (optional)
• Lightweight
• Sensor integrity checking
• Robust construction
• Ease of maintenance
The PS200 Series detects all possible
combinations of LEL, O2, CO, H2S, including
single gas detection. In addition to displaying
all gas readings simultaneously, the user can
also initiate a manual bump test anytime.
The PS200 accessory pack includes the
following as standard: USB Charging/
Comms Clip, Universal Power Plug, User
CD-ROM, Quick Operating Instructions.
Tubing (3m) complete with a Quick Connector
is also supplied as standard with pumped
instruments.
Package includes:
PS200 Instrument
Charging/Comms Clip (64260)
3M PVC Tubing & Connector (64136) *Pumped Instruments Only*
Configuration Report (64333)
Calibration Certificate (64332)
User Instructions – CD-ROM (64190)
Quick Operating Instructions (64172)
Mains Adaptor 5V-USB (64247)
Size: 121 x 59 x 32mm (4.8" x 2.3" x 1.3")
Weight: 230g (8oz) with pump 215g (7.6oz) without pump
Temperature: -20oC to +50oC (-4oF to 122oF)
Humidity: 0 to 95% R.H non-condensing
Alarms: Highly visible flashing LED, piercing >90dB audible
Display: Green and red LCD backlight display
Datalogging: Timed: 24 hours of timed logs at 1 log per minute
Session: Minimum of 180 logs
Calibration: Minimum of 8 calibration logs
Bump Logs: Minimum of 180 logs
Battery: Lithium Ion rechargeable battery
Run Time: Up to 14 hrs (diffusion)
Charging Time < 4 hrs
Enclosure: High impact rubberized polycarbonate case
Drop Test: 3m (10ft)
IP Rating: IP67 (Dust-tight and waterproof to 1m)
Response
Times (T90):
LEL = 10 secs (IEC 60079-29-1)
O2 = 12 secs (BSEN 50 104)
CO < 20 secs
H2S < 20 secs
Approvals: IEC Ex ia d IIC T4 Gb
ATEX Ex II 2 G Ex ia d IIC T4
CSA Class 1 Div 1 Groups A,B,C,D, T4
Class 1, Zone 1 EX ia d IIC T4
MED (0038/YY) - Module B & E
CE0518