5ELEM FIRE HOSE DUZ NITRILE RUBBER C/W ALUMINUM ALLOY NST COUPLINGS 1.5X100 300 PSI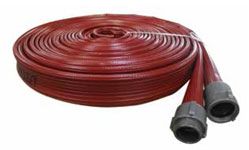 5ELEM FIRE HOSE DUZ NITRILE RUBBER C/W ALUMINUM ALLOY NST COUPLINGS 1.5X100 300 PSI
ATTACK HOSE DUZ 1.5" x 100' UL listed WP 300PSI WITH ROCKER LUG NST ALUMINUM COUPLING

This type of durable hose is Nitrite rubber covered hose, and along with high tensile strength polyester reinforcement for maximum durability and flexibility.
Ribbed Nitrite rubber cover greatly increases abrasion resistance and provides long service life.
Smooth Nitrite rubber liner minimum pressure drop.
Hose remains flexible to temperatures as low as -4°F (-20°C) and is resistant to ozone, oxidation, and most chemicals or petroleum products.
Polyester and/or Nylon reinforcement, tightly woven, twill weave resists puncture.