68201 4AA ProPolymer LED Flashlight with White LEDs, Yellow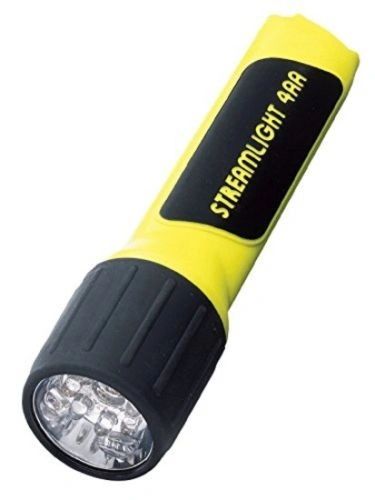 68201 4AA ProPolymer LED Flashlight with White LEDs, Yellow
Stream light propolymer 4AA 68201 LED flashlight 67 lumens/click switch. Camping lights flashlights. Made of the highest quality materials
Rugged, lightweight, and impact resistant, the Streamlight ProPolymer 4AA LED is a bright LED flashlight that provides 155 hours of run time on four "AA" batteries (included). Featuring a tail-cap switch for single-handed operation and durable, waterproof materials for use in extreme conditions, the ProPolymer 4AA LED Flashlight has a protective rubber face cap and a lanyard connection for easy portability.
Powerful Performance in a Petite Package
Weighing just 6.3 ounces, the Streamlight ProPolymer 4AA LED is 6.5 inches long and 1.63 inches in diameter, fitting easily in your glove compartment, purse, backpack, or tool bag. The ProPolymer 4AA LED produces 67 lumens of light with a run time of up to 155 hours on four "AA" alkaline batteries (included).
The Advantages of LED Technology
An LED is ideal for lights that are used often and over an extended period of time. You don't have to worry about breaking the light, since there is no glass or filament, and you rarely have to replace LEDs because they can last a lifetime. Save time and money on batteries as well--they will last much longer with an LED than with a regular light bulb.
Seven LEDs Provide Bright, Powerful Illumination
The ProPolymer 4AA LED uses seven, super-bright, 100,000-hour LEDs, so you'll never need to replace a bulb again. The LEDs are protected by an unbreakable polycarbonate lens with scratch-resistant coating and a shock-resistant rubber face cap.
Tail-Cap Push-Button Switch for Convenient Operation
Designed for convenience, the tail-cap push-button switch is quick and simple to use with one hand. Depress the push button slightly for a momentary light, or click it completely for the constant-on position.
Durably Constructed for Use in Extreme Conditions
Made with impact-resistant, non-conductive polymer, the ProPolymer 4AA LED is waterproof and features a virtually indestructible case that is comfortable to hold. Approved for hazardous locations (Class I, Division 1), the ProPolymer is ideal for use in fire and rescue, hardware, law enforcement, security, sporting, and outdoor applications.
The Streamlight ProPolymer 4AA LED Flashlight is backed by a manufacturer's limited lifetime .
What's in the Box
Streamlight ProPolymer 4AA LED Flashlight and four "AA" batteries.
· Virtually indestructible, non-conductive polymer with a scratch-resistant face-cap; impact & shock-resistant
· Lens: Unbreakable polycarbonate with scratch-resistant coating
· 7 100,000 hour life LEDs
· Run time: 4 AA alkaline batteries up to 155 hours
· 6-1/2-Inch long
" Weight: 0.39 pounds"
68201 4AA ProPolymer LED Flashlight with White LEDs, Yellow NEW! NoTax FreeShips Virtually indestructible, non-conductive polymer with a scratch-resistant face-cap impact shock-resistant Lens: Unbreakable polycarbonate with scratch-resistant coating 7 100,000 hour life LEDs Run time: 4 AA alkaline batteries up to 155 hours 6-1/2-Inch long Streamlight 68201 4AA ProPolymer LED Flashlight with White LEDs, Yellow Stream light propolymer 4AA 68201 LED flashlight 67 lumens/click switch. Camping lights flashlights. Made of the highest quality materialsRugged, lightweight, and impact resistant, the Streamlight ProPolymer 4AA LED is a bright LED flashlight that provides 155 hours of run time on four "AA" batteries (included). Featuring a tail-cap switch for single-handed operation