903 Yates Spec Pak - Intrinsically Safe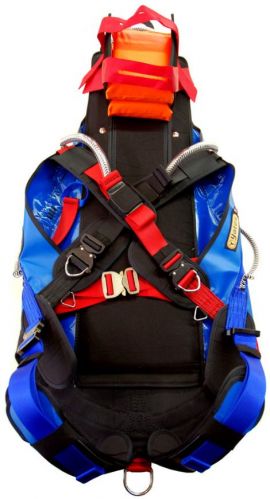 903 Yates Spec Pak - Intrinsically Safe
903 Intrinsically Safe Spec Pak with new Cobra D Ring Adjuster Buckles. D ring portion of Shoulder Adjuster buckles is made of stainless steel. Meets intrinsically safe requirements for confined space explosive environments where non-sparking requirements exist. Designed for Navy ship, submarine and aircraft confined spaces where intrinsically safe, non-sparking devices are mandatory. Dorsal D-Ring attachment is nylon coated stamped steel, certified die-electric non sparking. NEW Cobra chest buckles with built in D ring attachments now allows for attachment of Yates Bridle Systems. Note: Yates Standard and Spreader Bar bridle systems are NOT Intrinsically safe (Non-Sparking) but can be used with the 903 Spec Pak for sternal attachment in some specific environments where non sparking proticol does not have to be met. Avaliable in standard Red/Blue/Orange color. Bridle systems sold seperatly. Weight 14.5 lbs.
Strength rated as follows:
~ Buckle: 18kN / 4000lb MBS (straight pull). 36kN Loop configuration.
~ Dring: 22kN / 5000 lb MBS (straight pull).
Far exceeds ANSI Z359.1, CSA, EN, UIAA, and NFPA standards for fall protection
Made from 12mm - 7075 aluminum alloy
Stainless Steel adjuster, rivets, components, and D-ring. Brass clips.
CNC Machined for flawless precision, reliability, and safety. No sharp edges.