AlcoMate Premium (AL7000) Breathalyzer, FULL Pack--ALS16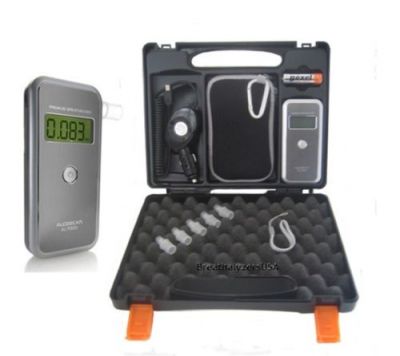 AlcoMate Premium (AL7000) Breathalyzer, FULL Pack--ALS16
AlcoMate Premium (AL7000) Breathalyzer, FULL Pack
The AlcoMate Premium (AL-7000) is our new flagship breathalyzer that combines advanced PRISM (Precalibrated Replaceable Intelligent Sensor Module) technology, to eliminate the need for calibration. Its modern design provides professional accuracy and is convenient and is an easy-to-use device. The AlcoMate Premium is suitable for health and law enforcement professionals, as well as consumers seeking a top-notch product. A mouthpiece is required - just blow into the sensor and your BAC is displayed in seconds on the easy to read LCD screen. This model is easy to use and affordable. You may purchase mouthpieces one at a time, or 100 at a time. 
FULL Pack Includes:
Breathalyzer
AA Batteries (x2)
Mouthpieces (x5)
Pouch
Handstrap
HEAVY DUTY HARD CASE
Power Car Adapter (to use if the analyzer batteries run out, you can run the device off of your cigarette lighter in your vehicle)
Features:
FDA 510(k)
Meets DOT/NHTSA requirements
US Coast Guard Approved
Accuracy: +/- 0.01% at 0.10% BAC
1 year manufacture's warranty
Special Features
NO RECALIBRATION REQUIRED
Easy-Replace Sensor Panel and Sensor Modules (PRISM Technology)
Large 4-Digit Decimal Display (0.000%)
Active Pressure Sensor
Deep-Lung Air Sampling
Cumulative Test Counter
Audible Alerts / Low Battery Indicator
Auto Power Off
"One-Way-Flow" Mouthpieces
Self-Diagnostic System
AlcoMate Premium (AL-7000) Specifications
Brief: AlcoMate Premium (AL-7000) is the newest portable breathalyzer. It offers the latest in cutting-edge breath alcohol sensing technology as well as powerful and convenient features not available in any other product. DOES NOT REQUIRE RECALIBRATION!
Alcohol Sensor: Oxide Semiconductor
Size: 4.2 x 2.0 x 0.75 inches
Body Material: Silver Plastic w/Light Grey Trim
Weight: 1.8 ounces (w/o batteries)
Battery: 1.5V AA Batteries x2 (Included)
Detection Range: 0.00% ~ 0.40% BAC (Normal Mode) or Hi/Lo (Fast Mode)
Recalibration Need: None*
(*Sensor Modules should be replaced every 6~12 mths) 
Breath Sampling Time: 5 seconds (Fast Mode) / 5 sec. (Normal Mode)
Users: Law Enforcement, Health Professionals, Consumers
Warranty: 1 Year Manufacturer Warranty