Allegro 3 Worker System, 100' Hose Full Mask A-1500 Compressor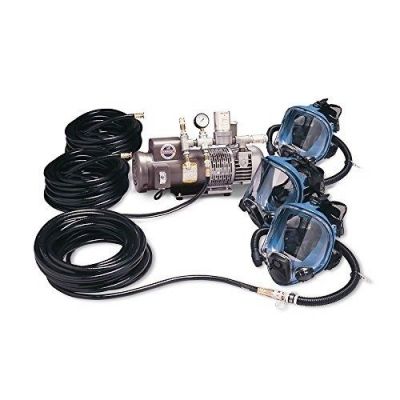 Allegro 3 Worker System, 100' Hose Full Mask A-1500 Compressor
Portable, oil-less pump supplies clean, breathable air to NIOSH approved respirators Cost effective pump produces no carbon monoxide, oil vapor, or oil mist, thus eliminating the need for carbon monoxide monitoring and alarm systems Rotary vane pump uses 4 carbon vanes that last from 5,000 to 15,000 hours of continuous running Ideal for painting and 
finishing, chemical handling and clean-up, and hazardous materials handling and removal
Fully assembled including all filters, couplers, carrying handle, rubber feet, and electric switch cord Equipped with OBAC fittings.
1- Pc. 9833 220V-60Hz ROTARY VANE, EXPLOSION PROOF AMBIENT AIR PUMP Model A‐1500 EX - 1½ HP Motor
(EX) - Hazardous Locations Class I, Division 1 & 2, Group D, Class II, Division 1 & 2, Groups F & G
GENERAL DESCRIPTION:
Portable explosion proof air source for up to three full or half face
respirator users, or two hood users. Solid performance in multiworker
applications, sanding or chemical handling operations.
CONSTRUCTION:
• Rigid metal base & housing with four rubber feet
• Brass & galvanized steel pluming
• Quick-connect Rectus (OBAC) air fittings
• Adjustable brass pressure relief valve
• Pressure gauge 0-15 psi (0-1.03 bar)
• Fan guard
• Powder coated gray
PUMP:
*Warning: Ambient Air Pumps are not to be used with generators
**Warning: Air inlet to the pump must be located where breathable air can be assured at all times
Type: Oil-less, rotary vane, direct driven
Vanes: Carbon construction (4ea/replaceable) (3.5" (8.89cm) X 1.3" (3.40cm) X 0.188" (.47cm))
Inlet Filter: 50 micron felt material
Exhaust Filter: 0.3 Micron HEPA
Working Pressure: 2-12 psi (.14-.83 bar) (15 psi (1.03 bar) max)
Performance: 0-15 CFM (0-25.48 m3/hr) at 60 Hz (adjusted via pressure relief valve)
Airline length: 100 feet (30.4m) maximum, from pump to respirator (sold separately)
Noise level: At Pump: 95 dB
At 6 feet (1.82m): 85 dB
At 10 feet (3.04m): 78 dB
Temperature Range: 32°F - 104°F (0°C - 40°C)
MOTOR:
Type: 1 1/2 HP, XPFC continuous duty
Certifications: UL Listed, CSA Certified
Volts:230 VAC, Single Phase, 60 Hz
Current Draw: (8A @ 230V)
RPM: 1725
NEMA Nom Eff: 75.0
Cord: 25' (7.62m) 12 AWG SOOW Extra Hard Usage
Plug: 20A 125V AGP Type, hazardous location
3 - pcs. 9100-100 AIRLINE HOSE 100 FEET
GENERAL DESCRIPTION:
Airline hose used for Allegro Supplied Air systems. It is NIOSH approved when used with Allegro Full face, Half-face and Hood respirators. Manufactured with Rectus OBAC quick-connect couplers.
CONSTRUCTION:
 Inner polyvinyl chloride
 Reinforced braided polyester yarn
 Outer black polyvinyl chloride
 80 Shore A–Durometer
SPECIFICATIONS:
Temperature Range: -20°F to 150°F (-28.8°C to 65.5°C)
Inner Diameter: 3/8" (0.375 in) (.95 cm)
Outer Diameter: 19/32" (0.594 in) (1.5 cm)
Max Pressure: 185 psi @ 70°F (12.76 bar @ 21.1°C)
AIR FITTING:
Manufacture: Rectus
Type: Quick connect
Air Fitting Size: ¼" (.63 cm) nominal
Coupler: C804-4 Type, chrome plated brass (P/N 9700-73)
Plug: CP81-44, Brass (P/N 9700-73B) 
3 - Pcs. 9901 RESPIRATOR, SUPPLIED AIR LOW PRESSURE FULL FACE MASK
GENERAL DESCRIPTION:
This comfortable full mask offers low pressure continuous flow
protection with a unique over the shoulder hose design and an
adjustable belt holds the hose out of the way. It's durable and
easy to use and clean.
LENS:
 High impact polycarbonate (meets ANSI Z87.1)
 Wide field of vision with replaceable lens
 Distortion-free
 Anti-fog and anti-scratch coatings
 Available lens peel-offs (P/N: 9901-25)
SUSPENSION:
 Non-slip durable rubber five point harness
 Mesh hair net minimizes pulling of hair
 Fits under hard hats
 Unique adjustable buckle system to lock in place
SEAL:
 Hypoallergenic and chemical/ozone resistant
 Durable silicone rubber maintains shape while in storage
 Comfortable even in extreme heat and cold environments
 Double sealing flange and deep chin pocket for better face to mask seal
EXHALATION VALVE:
 Large diameter contoured exhalation valve design, for minimal breathing resistance
 Easily accessible for fast replacement and cleaning
 Removable cover protects the exhalation valve form dirt, paint spray and from freezing
DOWN TUBE & BELT ASSEMBLY:
 90° elbow allows it to be directed over the shoulder and out of the way
 Corrugated flexible and lightweight material for greater comfort and less fatigue
 OBAC quick-connect plug with wide diameter and minimal air restriction
 Low profile nylon adjustable waist belt
 Plastic clip to restrain airline hose from pulling on the face piece
NIOSH APPROVAL:
 Approval No. TC-19C-353 (Use only Allegro approved airline hose.)