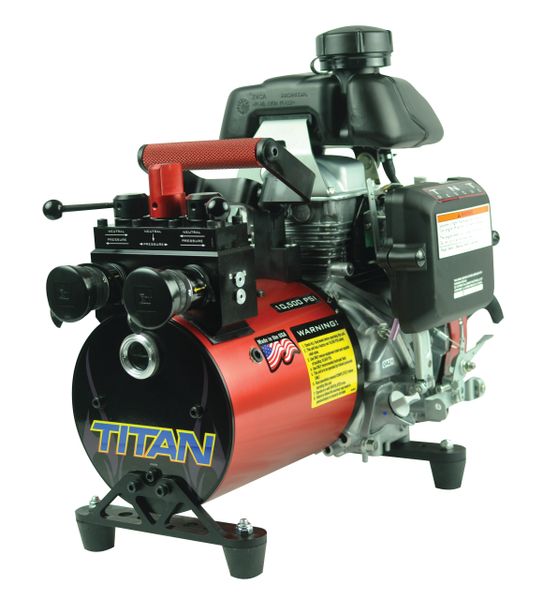 ATT-3.0 TITAN
ALL TNT Rescue tools and pumps are fully compatible with Hurst, Genesis, Holmatro and Amkus equipment. Use your current pump with TNT Rescue Tools or use your existing Rescue Tools with a TNT Pump, your choice.  
100% interchangeable and 100% Lifetime warranty on all TNT Rescue Equipment.
The Titan hydraulic pump is designed with TNT's legendary performance built into a compact package. Measuring 19" long, 20.9" tall and only 12" wide, this pump offers a whole lot of performance in a small size. The Titan Hydraulic Pump features the TNT Accelerator valve which offers two tool simultaneous operation or single tool operation at twice the speed.
The TNT Titan Hydraulic Pump is ideal for those who have limited storage space but still need the option of two tool operation or single tool operation in accelerator mode. The TNT Titan Pump is perfect for multi-tool operations needed at vehicle extrications, confined space rescue or trench rescue. The Titan Pump is backed by TNT's Lifetime Warranty and is available with Standard, Flat Face and Coaxial couplers.
• Mineral Base Hydraulic Oil 10,500 PSI (724 BAR)
• Two tool operation or single tool operation at double speed
• 2 stage radial piston pump
• Single hydraulic fluid reservoir
• Flip down handle for compact storage 
• Honda gas motor with hour meter
• Spark arrestor muffler standard
• Available Couplers: Standard, Flat Face and Coaxial
• 100% lifetime warranty
ATT-3.0 Titan Specifications
  Max. Operating Pressure
10,500 psi / 724 bar
  Length
19 in. / 482.6 mm
  Width
12.0 in. / 304.8 mm
  Height
20.9 in. / 530.8 mm
  Weight
51.8 lbs. / 23.5 kg
  Motor
3.0 HP Honda 4 Stroke
  Displacement
98 CC
  Fuel Tank Capacity
.32 Gal. / 1.2 Liter
  Approximate Run Time
2 Hours
  Hydraulic Pump
2 Stage Radial Piston Over Piston
  Tool Operation
2 Tool Simultaneous Operation
  NFPA 1936 2010 Edition Compliant
Yes
Simultaneous Mode (Per Tool)
  1st Stage Setting
3,200 psi / 220 bar
  1st Stage Flow
110 cu in./min - 1,802.6 cc/min
  2nd Stage Setting
10,500 psi / 724 bar
  2nd Stage Flow
55 cu in./min - 901.2 cc/min
Alternating Acceeleration Mode (Per Tool)
  1st Stage Setting
3,200 psi / 220 bar
  1st Stage Flow
220 cu in./min - 3,605.2 cc/min
  2nd Stage Setting
10,500 psi / 724 bar
  2nd Stage Flow
110 cu in./min - 1,802.6 cc/min