BLACK Thorogood Boots: Men's 807-6003 Rubber Insulated EH Felt Boots Size 12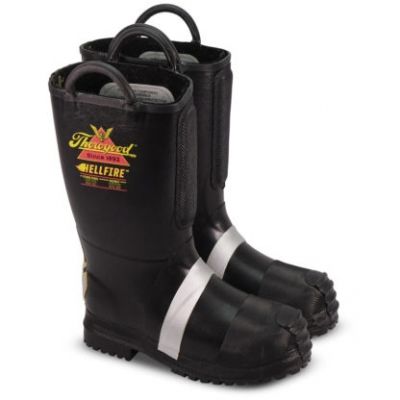 BLACK Thorogood Boots: Men's 807-6003 Rubber Insulated EH Felt Boots Size 12
These are top-selling Large Thorogood Rubber Insulated Felt Fire Boots with Lug Soles are available in sizes 8-13, 14, 15, 16. These Rubber Steel Toe Firefighter boots are also available in wide and extra wide. Because many firemen use these rubber boots for the drills which require the fireman's crawl, there were many fire fighters who were wearing the rubber down to point where it exposed the steel toe cap. Because of this, and because Thorogood prides itself in going above and beyond, they built up much thicker rubber bumpers on the toe to keep that from happening. Feel safe because these Big Mens Steel Toe Chemical Resistant Rubber Boots meet or exceed NFPA Requirements. Made for Structural Fire Fighting and have better visibility with Light-Reflecting Instep and Heel Patches. These boots NFPA 1971 & 1992 Certified for HazMat.

If you are looking for Wide Calf Steel Toe Rubber Boots for men, then this boot is the best of the best. Not only are chemical resistant and Haz Mat certified, they have a cafe circumfrence of 21" in a size 16 EEE Extra Wide. Even when going all the way down to a size 9, there is only a loss of about an inch in the circumference so that your wide calves can fit more easily into these boots. The majority of Men take things like this for granted, when you are a guy with big feet and large calves, it's usually the first question you have about such a boot.

75 Safety Toe
BB Blood Borne Pathogen
EH Electrical Hazard
PR Puncture Resisting
SF Structural Fire-Fighting
SR Slip Resisting
WP Waterproof
NFPA 1971 & 1992 Certified for HazMat.
Shoe Use and Care
Upper: FLAME/HEAT RESISTING Rubber
Construction: Vulcanized Rubber/Shoe FIt Engineered
Lining: 3.5mm Polyester Needled Felt with Heel Reinforcement
Insole: Removable Superknit Covered Polyurethane Footbed
Midsole: Stainless Steel Puncture Resisting Bottom Plate
Shank: Steel Triple Ladder Shank
Outsole: FLAME/HEAT RESISTING White "Traction Lug"
Special Features: Meets Both NFPA Requirements. UL Certified. Blood Borne Pathogen Compliant. ASTM F 2413-05 M/I/75/C/75 Oversized Steel Toe. Electrical Hazard. Double Reinforced Pull Loops. Cushioned Shin Guard. Light-Reflecting Instep and Heel Patches.

Detailed Sole Information
Hellfire™ Traction Lug
Abrasion Resistance : A
Oil Resistance : C
Heat Resistance : A
Chip Resistance : A
Slip Resistance : A

Meets the requirements of NFPA 1971 Standard on Protective Ensemble for Structural Fire FIghting, Current addition. UL Certified.