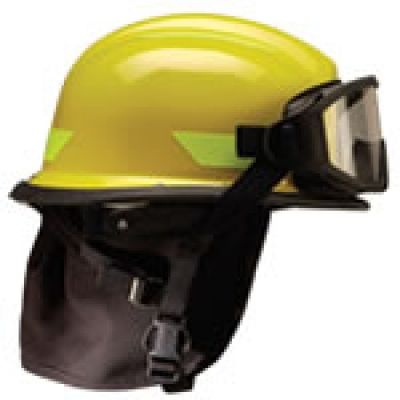 Bullard USRX Fire Helmet
USRX thermoplastic rescue helmets are engineered Bullard Tough for extreme search and rescue conditions. Featuring a streamlined design low center of gravity and increased headroom for more comfort, USRX rescue helmets incorporate recommendations from USAR teams and other rescue professionals. The result is an integrated assembly of advanced materials and quality components that provide superior head protection, comfort and proven long-lasting durability.
The Bullard patened M-PACT Shell® with SmartRidge design provides thermal and impact protection while offering more headroom for a comfortable fit.
Bullard USRX helmets come standard with the innovative, patented Quick-Attach™ Blade System. This system permits the firefighter to simply press on or off either a blade-mounted faceshield or blade-mounted goggle in seconds. This flexibility gives the firefighter the advantage of the right option for the right application without time consuming component changes. The Bullard Sure-Lock® ratchet headband adjusts to the wearer's head with a quick turn of the knob. Additional adjustment points permit custom fit, personalized balance and interface with the SCBA. USRX helmets can also be customized by the Bullard Logo Shop. The Bullard Logo Shop uses the latest pad printing technology to print your logo or insignia in vivid colors.
All Bullard fire helmets are equipped with the U-Fit System, offering 12 custom comfort settings. By engineering our helmets to include 12 points of adjustment, you can adjust the ride and balance of your helmet. It's like having a custom-fitted helmet, designed just for you.
Highlights
M-PACT Shell™ with SmartRidge design
High-heat thermoplastic outer shell
Comfortable Sure-Lock ratchet headband
Balanced 4-point nylon crown straps
3-point chinstrap with quick-release buckle
Rip-stop Nomex ear/neck protector
Leather ratchet cover
Removable fire-resistant, absorbent cotton brow pad
Quick-Attach faceshield or goggle system
Certified to NFPA 1971, 2007 and NFPA 1951-2007 standard