C08 Twistlock Aluminum Alloy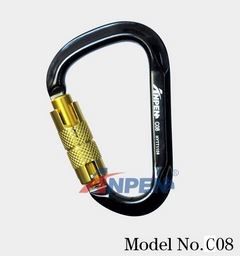 C08 Twistlock Aluminum Alloy
Anpen Twistlock Carabiner / C08

Twistlock Aluminum Alloy Carabiner
Weight: 80g
Diameter: 12.5mm
Gate opening: 24mm
Strength of major axis: 26kN
Strength of minor axis: 8kN
Strength of gate open: 8kN

Standards: EN362, EN12275

Carabiner is an essential equipment for protection when doing vertical activities. It suits for different severe environment. It is multi-purpose, widely used in linking harness, lanyards and Munter Hitch.

This carabiner is made of aluminum alloy with light weight. This deisgn has no slot at the gate lock, thus it's easier to lock and open, even when wearing gloves.

The twist locking system can be opened and closed with one hand, suitable for self-protection when connecting other equipment but does not open and close the safety carabiner frequently.

Pear shaped carabiner could use Munter Hitch to descending, large lock opening is easy to arrange working space, could linking larger diameter ropes or webbings.