C11 Manual Screwgate Carabiner Aluminum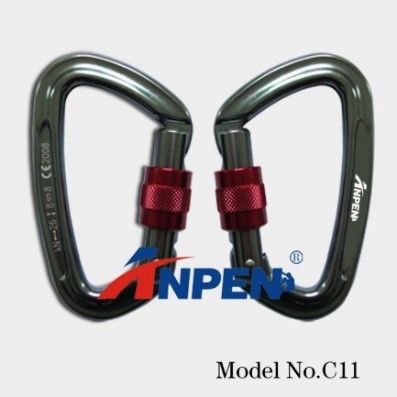 C11 Manual Screwgate Carabiner Aluminum
Anpen Manual Screwgate Carabiner / C11

Aluminum, Screwgate, Manual locking
Gate opening: 17mm
Length*Width: 99x61mm
Diameter: 12mm
Closed gate strength: 26kN
Open gate strength: 8kN
Minor axis strength: 8kN

Screw locking system can be opened and closed with one hand. For self-protection does not always connect to other equipment, safety buckle switch occasions.

Screw locking system can be in the snow or dust and soil contamination environments. Locking in a debris into the system is easier clean-up, low failure rate.

Asymmetric shape of type safety buckle easy connectivity tools, and has excellent long-axis (spindle). Breaking strength, fixed in the long axis (spindle) position is particularly suitable for connecting tools, has a good proportion of the self-weight and tension.