C13 Manual Screwgate Carabiner Aluminum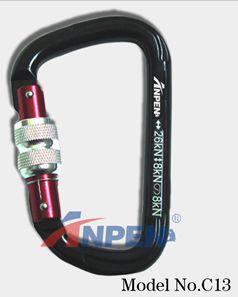 C13 Manual Screwgate Carabiner Aluminum
Description:
Anpen Manual Screwgate Carabiner / C13

Aluminum, Screwgate, Manual locking
Weight: 77g
Gate opening: 25mm
Length*Width: 112x70mm
Diameter: 12mm
Closed gate strength: 26kN
Open gate strength: 8kN
Minor axis strength: 8kN

Pear-shaped aluminum screw lock safety buckle has a large opening, and placed within a larger space for the lock. Seat belt or the connection for connecting the end of the rope, can buckle into the larger diameter. Connection points and more equipment, lack of equipment can be used with the safety of the Italian semi-buckle. Buckle down to do or emergency protection.