C18 Manual Screwgate Carabiner Aluminum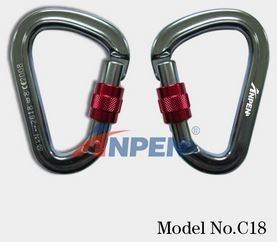 C18 Manual Screwgate Carabiner Aluminum
Anpen Manual Screwgate Carabiner / C18

Aluminum, Screwgate, Manual locking
Weight: 65g
Gate opening: 23mm
Length*Width: 99x71mm
Closed gate strength: 26kN
Open gate strength: 8kN
Minor Axis strength: 8kN

Screw locking system can be opened and closed with one hand.

Self-protection does not always connect to other equipment, safety buckle switch occasions. Screw locking system can be in the snow or dust and soil contamination environments, screw locking system, locking in a debris into the system is easier clean-up, low failure rate.