Digital Professional Lux Meter DT-8808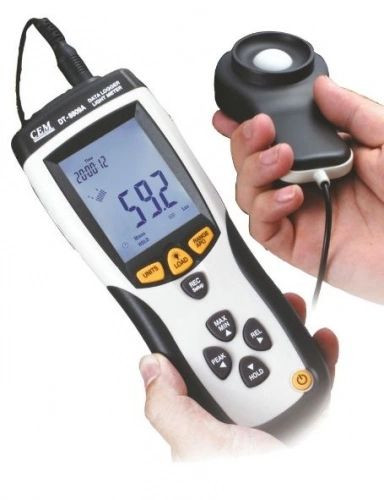 Digital Professional Lux Meter DT-8808
Digital Professional Lux Meter
DT-8808
DT-8808 is a precision instrument used to measure illuminance (lux, foot-candle) in the field. It meets CIE photopic spectral response.??It is fully cosine corrected for the angular incidence of light. The illuminance meter is compact, tough and easy to handle owing to its construction.??The light sensitive component used in the meter is a very stable, long-life silicon photo diode and spectral response filter.
Light-measuring levels starting form 0.01lux~0.1klux/0.01fc~0.01kfc
High Accuracy and Rapid Response
Data-Hold function for holding measured Values
Unit and sign display for easy reading
Automatic zeroing
Meter corrected for spectral relative efficiency
Correction factor need not be manually calculated for non-standard light sources
Short Rise and Fall Times
Peak-hold function for tracing the peak signal of light pulse with least duration 10μs and record
Capable of selecting measuring mode in lux or fc scale alternatively
Auto power off 30 minutes
Maximum and minimum measurements
Relative Reading & Reset function
Easy to Read 4000 Counts Large Backlit LCD display with analogue Bargraph
Display 3-3/4 digit Backlit LCD with high speed 41 segment bargraph 
Measuring Range 40.00 lux, 400.0 lux, 4000 lux, 40.00 Klux and 
400.0 Klux / 40.00 fc, 400.0 fc, 4000 fc, 40.00 Kfc. 
Over-Range LCD will show "OL" symbol. 
Spectral Response CIE Photopic. (CIE human eye response curve) 
Spectral Accuracy CIE λ function f1'≤6% 
Cosine Response f2' ≤2% 
Accuracy ±5% rdg±10d. (<10,000Lux); ±10% rdg±10d. (>10,000Lux) 
Repeatability ±3% 
Sampling Rate 1.5 times / sec of analog bar-graph indication 
1.5 times / sec of digital display 
Photo Detector One silicon photo diode and spectral response flter 
Operating temperature & Humidity 0°C to 40°C (32°F to 104°F) & 0% to 80% RH. 
Storage Temperature & Humidity -10°C to 50°C (14°F to 140°F) & 0% to 70% RH. 
Power Source 1 piece 9V battery 
Photo detector Lead Length 150cm (approx.) 
Photo detector Dimensions 115L × 60W × 20H (mm) 
Meter Dimensions 203L × 75W × 50H 
Weight 280g.
• Instruction Manual
• Battery
• Carrying Case
• Test Report