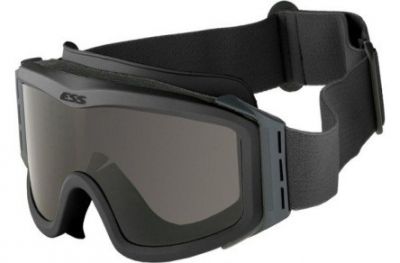 ESS Night Vision Goggles
ESS PROFILE NIGHT VISION GOGGLES W/ SPEED SLEEVE 

Frame Color : Tactical Black 
Code : ES-GG-Profile-740-0499 

The ESS Profile Night Vision Goggles are a compact military and tactical goggle system with no compromises. These ESS Goggles were created with direction from elite U.S. Special Forces groups, and are more widely used than any other military/tactical in the world. The ESS Profile Tactical NV Goggles have all the advantages of a low-profile, night vision compatible frame without sacrifices in dust filtration, field of view, impact protection, or anti-fog performance. The ESS NVG Profile Goggle sports extra-thick, 2.8mm polycarbonate lenses that offer maximum impact protection and 100% UVA/UVB filtration. Eye Safety Systems coats the lenses with their advanced Clear Zone Flow Coat treatments, providing the optimal combination of anti-scratch coatings on the outside of the lenses and antifog coatings on the inside. The ESS Profile NVG Goggle features a fullperimeter ventilation and filtration system that minimizes lens fogging and filters airborne particles, dust, and splashes, and an easy-to-clean, antimicrobial OpFoam face padding that increases comfort and fit.