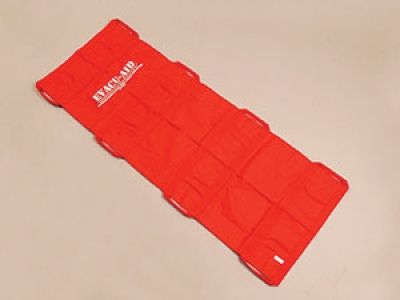 Evacu Aid
The cost effective solution for Search and Recsue, Student, Personnel, Patient Evacuation.
Other EVACU-AID features include: 
Strong and durable materials
Non-slip, washable suface
Packaged for visibility (clear bag with grommet)
Compact and convenient storage folded size:
(approx. 12" x 12" x 2")
Open full size is 72" X 28"
Reinforced stress points
Self-restraining
Lightweight (approx. 2 lbs.)
Load Capacity 300 lbs.
Accommodates poles (not supplied)
EVACU-AID has eight handgrips to allow fast and safe transport by 2-4 people. It's unique, easy-to-use design makes EVACU-AID an excellent choice for Schools, Hospitals and Offices. 
This does not replace a backboard when neck and back injuries are present. Use by trained people is advised.