FLIR K2 Thermal Imaging Camera TIC for Firefighting w/Accessory Kit 160 × 120 IR Resolution and MSX® image overlay technology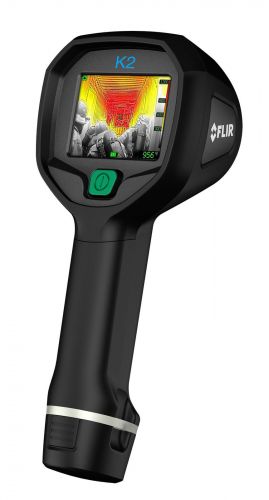 FLIR K2 Thermal Imaging Camera TIC for Firefighting w/Accessory Kit 160 × 120 IR Resolution and MSX® image overlay technology
The K2 makes powerful thermal imaging more accessible so more first responders can help save more lives, more property, and stay safer. Engineered to survive tough operating conditions, the K2 withstands a 2-meter drop onto concrete, is water resistant (IP67) and is fully operational up to +500° (for 3 minutes). Set the K2 to one of seven different thermal imaging modes depending on the primary use of the camera; switch between them using FLIR Tools software. 3" LCD clearly displays luminous 160 × 120 thermal images to help you maneuver more confidently and strategically under the harshest conditions.
Measures temperatures from -20 °C (-4 °F) to 500 °C (932 °F) in two ranges
160 × 120 pixel IR Resolution
47° × 35° Field of view
MSX® image overlay
3" LCD backlit screen
Quick-release battery for easy replacement
Start-up Time: < 30 sec. (IR-image, no GUI)
Start-up Time From Sleep Mode: < 10 sec.
Thermal sensitivity/NETD: < 100 mK @ +30°C (+86°F)
Field of View (FOV/focus): 47° × 35°
Lightweight design: 1.5 lbs.
Kit includes: Camera, 2 lithium rechargeable batteries, charger, lanyard strap, power supply, USB cable, and manual
Camera Measurements: 4.1" x 3.5" x 9.8"
Manufacturer's Warranty: 2 years on batteries, 5 on the camera, and 10 on the detector