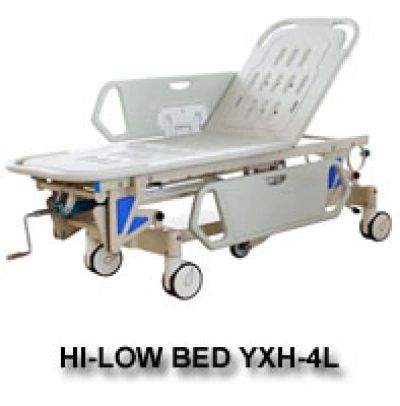 Hi-Low Hospital Bed
The main frame is automatically pressed by the best alloy aluminium (A380.2). Nice and strong in appearance.
The surface and protecting rails are sprayed by imported PE materials, strong and beautiful.
Single operation design for the bed surface, the upper part is used ltalian damper as the holding energy source. Easy to operate.
Hand rocker instrument (there is cluch installed) can adjust the bed surface height between 500-900mm.
International central control braking system to increase the steady. Direction leading wheels easily come to an ideal situation by only one person.
The complete design and producing of the bed can much more satisfy to your requirement .It is a good choose to hospital by its humanity design.
Product size (L x W x H): 1950mm x 650mm x 500/900mm 
Weight: 79kgs