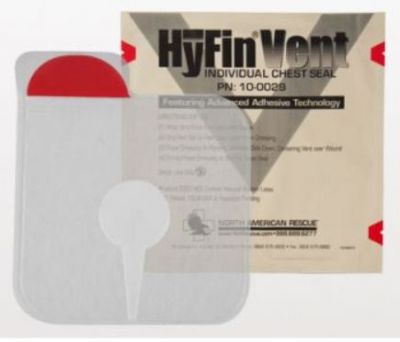 HyFin Vent Chest Seal
Occlusive dressing with Patented built-in vent that prevents airflow into the chest cavity during inspiration while allowing air to escape through the vent during exhalation
Transparent backing allows placement directly over wound and easily conforms to the patient's chest to create a superior seal
Red elliptical tab for single step peel-and-apply application that can also facilitate burping of the wound
The new HyFin Vent Chest Seal provides an additional solution to the treatment of penetrating injuries to the chest by providing an occlusive chest dressing with a Patented built-in vent that prevents airflow into the chest cavity during inspiration while allowing air to escape through the vent channel during exhalation. The HyFin Vent Chest Seal is a 6 in. x 6 in. occlusive dressing with built-in vent that provides a superior occlusive chest dressing for those treatment protocols that call for the use of a dressing secured on 3-sides or a vented/valve type chest seal.
It features an enhanced adhesive gel formolation that creates a superior seal, even in the most adverse conditions. The seal has a transparent backing to allow placement directly over the wound and easily conforms to the patient's chest. The seal is designed with a large, easily-visible red elliptical tab for single step peel-and-apply application that can also facilitate the burping of a wound if necessary. To ensure high quality performance, NAR packages each chest seal using its' signature Red Tip Technology red tear notches in a rugged, easy-to-open, foil pouch. The HyFin Vent Chest Seal is Made in America and is 100% latex free.
Large size (6 in. x 6 in.)
Patented vent built into the dressing
U.S. Patent 7,504,549 & Patent(s) Pending
Advanced adhesive technology
Oversized red elliptical tab for single step, easy to use, peel-and-apply application
Conforms to the casualty's chest
Effective in extreme environments
Latex free
Made in America
Dimensions:
Packaged – H 7.5 in x W 7.5 in x D .1 in.
Chest Seal – H – 6.0 in. x W 6.0 in. x D 0.1 in
Weight: 1.31 oz