JUNKIN Break-Away Plastic Stretcher JSA-200-B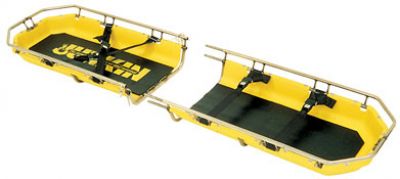 JUNKIN Break-Away Plastic Stretcher JSA-200-B
Plastic Stretcher JSA-200
Yellow high-density polyethylene shell, supported by a stainless steel outer rail, permanently attached with stainless steel semi-tubular rivets. Features molded runners, fully exposed outer rail, non-absorbent foam pad secured to stretcher and four patient restraint straps. Ideal for unusually rugged rescue situations such as industrial, mining or construction. Patent Pending.
Designed to rescue injured persons from locations where lengthy foot travel is mandatory. The stretcher breaks into two halves which can be back-packed to the point of rescue and assembled in seconds. Positive-locking quick-release pins secure two halves together. Four straps are standard.
DIMENSIONS: 84-1/2" L X 24" W X 7-1/2" H
WEIGHT: 32 LBS.
LOAD CAPACITY: 1200 LBS.