LAKELAND ALUMINIZED Attack Attack MTS Proximity Pants Style Number ATP17 SIZE LARGE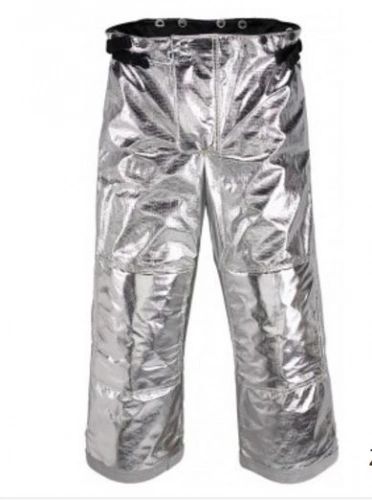 LAKELAND ALUMINIZED Attack Attack MTS Proximity Pants Style Number ATP17 SIZE LARGE
Style Number ATP17
The Attack™ Proximity Series is Lakeland Fire's traditional style of turnout gear. Attack™ features a longer 35" coat and waist high pants. New MTS® patterns have revolutionized the way Attack feels and wears. Superior mobility is key, with unrestricted movement while crouching, bending or reaching. You can customize your MTS® Attack™ gear to fit your needs and company requirements. See our "Materials and Options" pages for more details.
Attack MTS Pants Standard Features
Aluminized 7 oz. PBI outer shell
Four panel design high-back bib pants.
Low-rise waist fits like street clothes, increases mobility.
2" independent Nomex® waistband with snap fasteners to attach pant liner system.
Pant liner inspection port.
Streamlined fly flap with Velcro, hook and dee/snap fastener.
Two Nomex® twill take-up straps at each side of the waist to adjust the fit of the pants.
Diamond crotch gussets which absorbs the stress of the crotch system for increased durability.
Two 10" x 10" x 2" bellows thigh pockets with Velcro® flap closure and drain holes, lined with Kevlar® twill.
Arashield® reinforced knees for increased liquid resistance and maximum durability.
Double layer of Q8® thermal liner material pad the knee for additional comfort.
Extra-large boot cut pants cuffs curve up to avoid premature wear and walking on the cuff.
NFPA Style Triple Trim is double stitched to garment for increased protection against wear.
Grey leather cuffs are double stitched.
6-Point H-Back Suspenders.