Larson Electronics EXPRA-04R Rechargeable Explosion Proof LED Right Angle Clip Light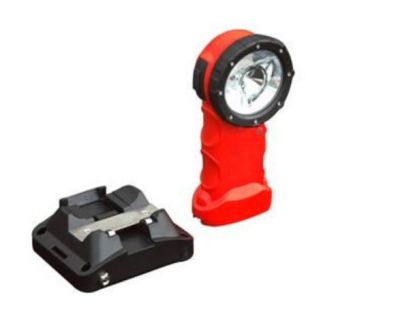 Larson Electronics EXPRA-04R Rechargeable Explosion Proof LED Right Angle Clip Light
Larson Electronics EXPRA-04R Rechargeable Explosion Proof LED Right Angle Clip Light can be used as either an inspection light or a general area work light and is waterproof and Class I, Division 1 & 2, Groups C & D approved. This light includes a standard 110-220V AC charging unit and runtime is approximately 5 hours on a full charge.
The reflector configuration on this explosion proof angle light produces a beam approximately 374 meters in length. This angle light is designed to be attached via ring or spring clip to vests, coats or helmets, allowing operators hands free operation. This explosion proof angle flashlight contains a single LED unit that has a 30,000 hour operational life, produces 170 lumens, and runs for 5 hours on a single charge.
Power for this light is provided by a lithium-ion battery producing a runtime of 5 hours on a single charge. An included charging unit will recharge the battery in 5 hours and includes an LED indicator to signify a full charge. This explosion proof angle light is waterproof and 30 foot drop survival tested. The housing, switch and tube on this angle light are constructed of high strength nylon, and the lens is impact and scratch resistant polycarbonate.
EXPRA-04R Explosion Proof LED Angle Light Ratings/Approvals
Safety Listing: UL, CSA, Class I, Division 1 & 2, Group C & D
Dimensions: 2.5"L x 3.0"W x 7.0"H Class II, Division 1 & 2, Group E, F, G
Battery: 2800mAh Lithium-Ion Class III
Mounting: Angle, Clip Or Ring Attach UL 913
Runtime: 5 Hours on Full Charge CSA C22.2
Weight: 1 lbs (2.2 kg) T3 Operating Temp
Lamp Type: LED Waterproof
LED Life Expectancy: 30,000 Hours
Candelas: 35,000
Lumens: 170
Charging: 110V, 220V Charging Unit