Man Throw Overboard Inflatable Liferaft ●Model: DYA-ATOB-10 Person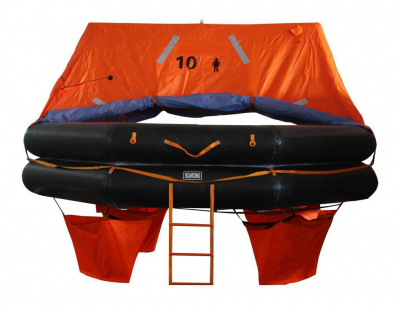 Man Throw Overboard Inflatable Liferaft ●Model: DYA-ATOB-10 Person
Man Throw Overboard
Inflatable Liferaft
●Model: DYA-ATOB-10.
●Capacity(Persons): 10
●Net Weight(kg): 102
●Gross weight(kg): 132
●Max. Storage Height(m): 18-50.
●Equipment Outfit: SOLAS A pack.
●Crate packing(mm): 1300*695*660
●It meets the China MSA-" Regulations for
the Statutory Surveys of Ships and offshore
Installations—Technical Regulations for the
Statutory Surveys of Sea-going Ships Engaged
in Domestic Voyages"2004,and itʹs 2008
Amendments,Part4, Ch.3.and
SOLAS(74/96),LSA,MSC.81(70), MSC.226(82),
MSC.218(82), MSC.293(87),ISO15738(2002).
●Suitable for installing in the vessels sailing
on international voyages.
●With CCS Certificate.