Model 40V2T – the largest Omni-directional siren in production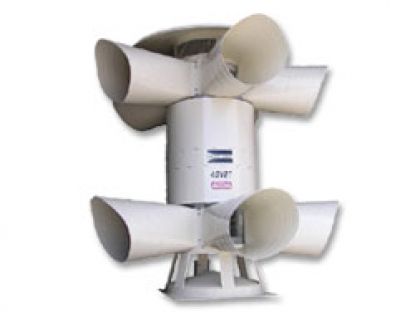 Model 40V2T – the largest Omni-directional siren in production
Behold….The King…
130 dB(C)
Electro-Mechanical Warning Siren. No speakers or amplifiers here, just real, honest, big-time, worry free sound.
100% Maintenance Free. Not just a part of the siren, the whole system !!
NON-ROTATING. Forget about the worries of rotating sirens, this unit only has two moving parts !!
Mechanically produced sound – stronger and further reaching than electronically produced sound.
Compatibility, this siren will integrate seamlessly with 99% of existing siren systems.
Lifetime Tech Support is included with every siren. No matter how old your siren is, we will help you through any problems.
Available Five Year Warranty available you can rest assured your siren will be functional at all times.
Harmonically Balanced fans provide a full octave of powerful sound.
At the top of the food chain, the 40V2T stands as the largest Omni-Directional siren in production today. Meant for covering large areas efficiently, this siren is 100% FEMA and USDA grant compliant. This 40 Horsepower brute is rated at 130 dB(c) @ 100 ft. continuous*. Not just for 25% of its cycle time, like its rotating competitors, the 130 dB measurement is for 100% of its full volume run time. Plus, 40V2T's 130 dB is available in a 600/800 Hz arrangement, the lowest dual pitch arrangement in the industry; meaning the largest Omni-directional siren in production today features sound that will fade at a lower rate than its competitors, giving the user more distance per decibel.
The 40V2T is available in three phase power. All exposed siren components are of powder coated metals, providing the most durable finish available. The siren can be upgraded to Stainless Steel for use in harsh environments. Shipping weight of the siren is 1200 lbs.
Couple the 40V2T with the Generation 3 series siren controller, a motor starter and pole mounting bracket for a state-of-the-art system created with tried and true technology for a winning combination.
The largest omni-directional siren in production today !!!
This siren is rated by Sentry @ 131 dB(c) at 100 ft.*
Estimated sound radius is 6,200 ft continuous.**
Sound pattern is Omni-Directional producing 100%
volume at peak RPM 100% of the siren cycle time.
The 40V2T features a dual pitch design with one rotor
producing 600 Hz and the other producing 850 Hz.
Three Phase Siren:
40 HP: 208/230 (460V-special order), 60 Hz
NP/NEC FLA (230V) - 91.0 / 104.0
Uses Starter # S40W
Requires 150 amp circuit breaker 
MADE IN USA