NNMLSE CO.,LTD. 50KN PLATFORM DAVIT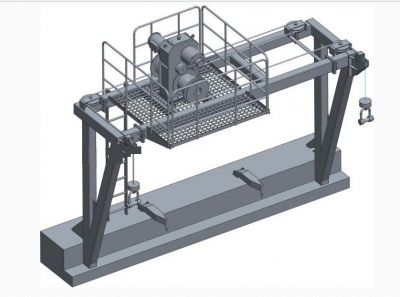 NNMLSE CO.,LTD. 50KN PLATFORM DAVIT
1.General
1.1 
This platform davit is a special equipment for lowering and recovering boat with winch, which is installed on the platform.
1.2 
The design of the davit conforms to the latest requirements of the SOLAS and LSA . Andalso has been approved by Classification Society.
1.3 
Lowering of boat is dependent on its own gravity with no need of any other power.
1.4
The davit is designed for boarding the boat in stowed position. The boat may be lowered without stopping as turning out and lowering is a continuous movement at a minimum of time-spending.
1.5 
The boat is turned out and lowered by means of remote control that the crew can release and stop the hand brake of the winch from inside of the boat via wire connection to the brake arm and wire spoil on the small drum. Alternatively the crew can operate the hand brake on the deck.
1.6 
A permanently mounted motor on the winch is used for hoisting the lifeboat back to the stowed position.
1.7
The winch drives and equipped with one-way brake, disc type axial friction clutch and manual hoisting crank with safety device.
1.8
The inspections and tests of davit appliances are in accordance with the latest MSC.81(70)& MSC.226(82)
2. Main data
Type: Davit---- NMPL50
Winch---- NMDP50
NMDP50S Electrical boat winch
:50KN 
Max. working load of davit: 50KN
:50KN
Max. working load of winch: 50KN
:S=(0.4+0.02×H)
Lowering speed of boat: S=(0.4+0.02×H)(Full load)
S=Lowing speed of boat in m/s
H=
H= Height in meters from davit head to waterline at
the lightest seagoing condition m
:40~60 m/min
Lowering speed of wire V (full load) : 40~60 m/min
:≥5 m/min(/lifeboat)
Hoisting speed of boat:≥5 m/min(/lifeboat)
:20°+20°
Designed condition: 200list+200trim
:18×19-18-1770,
Boat falls: φ18mm,Galv.-Non-rotate 
Motor:
Power source: 380 V/ 50 Hz,3 相 phase 
Power: 5.5/6.3 KW () 
Model No: YZ132M-6-H () 
Protection grade: IP56 
Insulation class: F 
3. 
Boat
:5.0
Type:5.M totally enclosed life boat
:5.0×2.20×1.10 m
Main Dimension: 5.0×2.20×1.10 m
Hook distance: 4600 mm
Passengers: 26 P
Weight of full boat: 4310 kg
4.
1 sets A complete set of davit
1 sets A complete set of rescue winch
1 sets electric control box for life winch
1 sets button for lifewinch
1sets spare part for winch & electric 
Boat fall
Griping unit
boat support
remote control unit
All necessary rope
5. Item excluded from our supply
Cable on deck
Gear oil
Performing on-board test
Assembly (After the works endurance test, the davit is dismantled for shipment and installed on offshore)
6. Paint
6.1 Sandblasting to :Sa2.5
6.2 Primer painting:
:SIGMA COVER 380 80u(dry)
7. Guarantee period
12 months after the delivery