NRS Men's Paddle Weshoe Size 11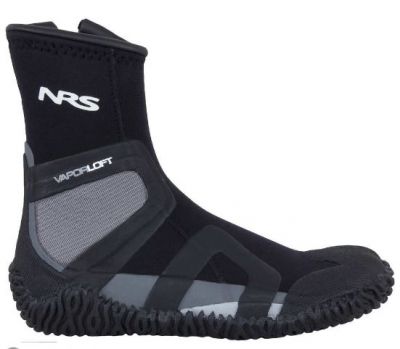 NRS Men's Paddle Weshoe Size 11
he warm, comfortable, convenient NRS Men's Paddle Wetshoe is an excellent choice for all types of boaters. Its side zipper entry makes it easy to put on over bare feet, wetsocks or drysuit socks.
High-top, low-profile design provides outstanding warmth and protection without bulk.
The gusset-backed YKK® entry zipper opens wide, making the Paddle Wetshoe easy to put on and take off.
3-mm Terraprene™ neoprene with heat-reflecting titanium adhesive keeps feet toasty when the water's chilly.
Soft, fleece-like VaporLoft™ lining repels water and dries instantly for superior warmth and comfort.
A 3-mm thick high-traction sole, paired with a 5-mm neoprene insole, protects your feet from rocks and roots.
The sole wraps up around the heel and toe for extra protection.
Extra padding over the outside ankle protects that pressure point inside your boat.
A roomy, naturally shaped toe box frees your toes for all-day comfort.
Stretchy rubber support bands improve lateral stability without adding volume.
Whole sizes only.