OSX Attack Fire Suit Coat and Pants Yellow MEDIUM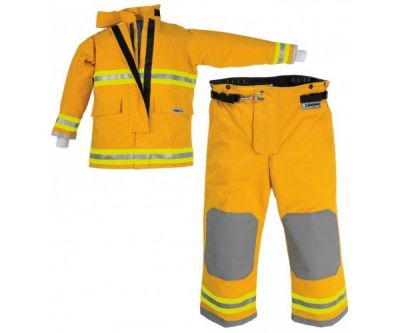 OSX Attack Fire Suit Coat and Pants Yellow MEDIUM
Lakeland Fyrepel OSX Attack™ Turnout Gear NFPA Compliant
OSX Attack Coat
• 7.5 oz Nomex® Outer shell
• Aralite/Stedair 3000 liner system
• NYC Style 3M Lime Yellow Triple Trim
• Radio Pocket
• Mic Strap
• Flashlight Snap with Strap
• Expansion/Handwarmer pockets on 
jackets
• 2x10x10 Expansion/Handwarmer 
Pockets on jacket.
• Arashield Reinforcements
• Exclusive "Easy Grip" DRD
OSX Attack Pant
4-piece outer shell and liner system. 8 Liner inspection opening.
Double stitched major seams with 8-10 stitches per inch.
Rear boot-cut cuffs.
Velcro® hook & Dee/snap fastener fly closure. 10 8-point X-back suspenders.
Double layer 2" Nomex® Waistband with snaps for liner. 11 Die-cut leather reinforced hardware.
Noemx® twill take up straps. 12 Double stitched lime/yellow triple trim.
Grey Arashied® knee reinforcements. 13 Grey Arashield® cuff reinforcements-double stitched.
Double layer padded knees.
Materials Made in USA