Pelican Remote Area Lighting System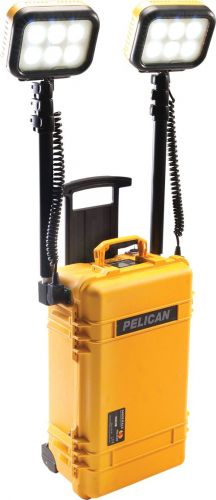 Pelican Remote Area Lighting System
Using solid-state mounted LEDs coupled with a thermally efficient light engine and the Pelican Protector™ Case. The Remote Area Lighting Systems (RALS) gives the user the ultimate maintenance free portable floodlight station to get the job done efficiently, safely and on time. The RALS houses two of it's light heads and it's multi-stage charger for that total self-contained convenience. It is also equipped with a telescopic handle and rugged wheels for ease of transport. Includes a convenient low battery warning system and waterproof activation switch.
High Flux LED, 50,000 hr. life
Lumen Value: 3000 (low) and 6000 (high)
2 lamp heads, 6 LEDs per head
90° beam spread
2 brightness settings
12v rechargeable battery, 9 hr. charge time
Battery burn time: 14 hrs. (low), 7 hrs. (high) from full discharge
500 cycle battery life
Low battery warning
Head Dimensions: 6.5"Lx7.87"Wx2.56"D
Cord Length: 13.78"
Weight: 51 lbs.
Made in USA