Prestan 4-Pack CPR Manikin (Child)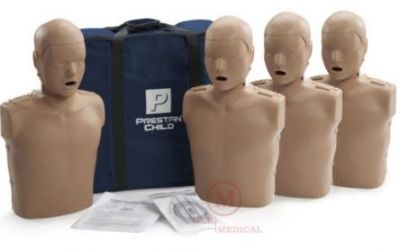 Prestan 4-Pack CPR Manikin (Child)
Medium Skin (4 Pack) with CPR monitor
Realistic to the eye and the touch, the Prestan Adult Professional Manikin is unlike any other on the market. Available individually or in convenient multipacks of four for class training purposes, Prestan manikins are uniquely designed as a clamshell and accommodate an easy-to-insert face shield/lung bag.
Dimensions: 26" x 13" x 23"
Every Prestan manikin purchase comes with FREE 50pcs face shields and a CPR mask!
Contents: 4 Manikins, 50 Lung Bags, Instruction Sheet, 1 Nylon Carrying Case for 1 Manikin (26" x 13" x 23")