PROTEK 605 INDUSTRIAL MONITOR without Nozzle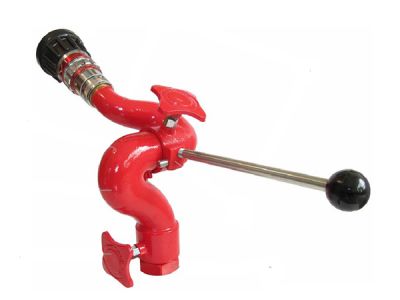 PROTEK 605 INDUSTRIAL MONITOR without Nozzle
Corrosion resistant cast brass construction ideal for marine, offshore, industrial, and other corrosive environments.
Full 2″ waterway for flow rate of up to 1900LPM.
Cast-in turning vanes for efficient flow.
Full 360 degrees rotation.
Vertical travel of 140 degrees from 80 degrees above and 60 degrees below horizontal.
Positive friction locks with brass knobs for both horizontal and vertical travel to hold desired position.
Operating pressure of up to 200 PSI 14 BAR
Stainless steel lever for durability and easy control.
Rugged, lightweight and flow efficient monitor with high reliability and minimal maintenance.
Compatible with Protek's range of Nozzles (sold seperately).
inlet size: 2", 2.5", 3"
Outlet 1.5"
Control - Tiller Bar
Material - Brass
Finish - Red Powder Coating
Friction Loss 28 PSI at 500 GPM / 15 PSI at 350 GPM
Travel 140 Degrees Vertical / 360 Degrees Rotation
Weight 19 lbs. / 9 Kgs.