Lakeland ChemMAX® 1 Style Number CT1S428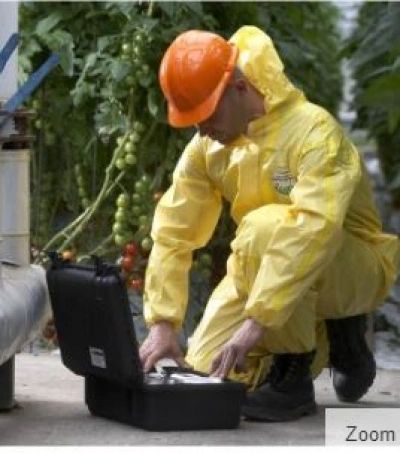 Lakeland ChemMAX® 1 Style Number CT1S428
ChemMAX® is Lakeland comprehensive range of coveralls for Type 3 & 4 protection against hazardous chemicals.
ChemMAX® 1 is the entry level lightweight coverall featuring a HDPE film laminated to a PE substrate. Effective protection against range of commonly used chemicals combined with taped seams, double zip & storm flap and lakeland's unique Super-B style. See Lakeland's guide to the selection of limited life coveralls for hazardous chemical protection.

Certification
EN 14605 (Type 3 & 4)
EN 13982 (Type 5)
EN 13034 (Type 6)
EN 1149-5 (Anti-static)
EN 14126 (Bio hazard / infectious agents)
EN 1073 (radiation contaminated dusts) 
Fabric offers protection against a range of commonly used chemicals.
Stitched and taped seams for fully impervious seams.
Lakeland double zip / storm flap for front fastening security.
Wide, cushioned knee-pads
Coverall with 3 piece hood, inset sleeves, 2 piece diamond crotch gusset, elasticated hood, waist, cuffs and ankles, cushioned knee-pads
Colour: Yellow
Seam: Stitched and taped
Taped seam means a fully sealed seam against liquid and dust ingress.
Permeation tested against a basic range of chemicals.
Double zip / storm flap for secure protection to front fastening.
Double layer cushioned knee-pads for comfort and security.
All chemical suits are available in a special "plus" design featuring
attached boots with over-flaps and double elasticated cuffs.
Tank Cleaning
Petrochemical and refining applications
Maintenance applications
Chemical handling and distribution
Chemical clean-ups and spill management
Contaminated land clearing
Oil-spill clean-ups
Selection of chemical suits will require an assessment
of the chemical barrier against relevant chemicals
according to permeation tests as well as on the
design and comfort level of the suit. A summary
of tests on ChemMAX 1 can be seen on the
technical information page. See Lakeland's
guide to the selection of chemical suits for
further information.