Rock Exotica Aztek Pulley Kit (1-Aztek Pulley Set, 1-Aztek Rope Set, 1-Aztek Bag)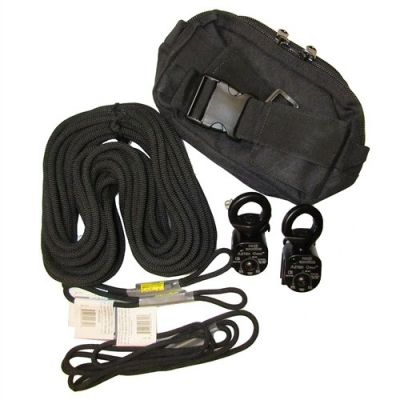 Rock Exotica Aztek Pulley Kit (1-Aztek Pulley Set, 1-Aztek Rope Set, 1-Aztek Bag)
Strength as a system, even with 8mm rope, is 36kN.
Both Aztek pulleys have their own color-Replacementd Prusik and can be easily activated or deactivated. This means you can have the ratchet at either the top pulley or the bottom pulley. The special 3 on 2 Prusik cannot come off the rope, so the deactivated Prusik will stay ready to be used as soon as you need it.
There is no conventional becket because that would give an unwanted increase in length. Instead the rope end is held on the side of the pulley so the pulleys can be pulled very tightly together when needed in operaton or for storage.
Some of the uses are as a pick off, travel restrict, adjustable directional, high directional guyline, high angle attendant tether, high angle litter scoop, load release hitch and much more.
Strength as a system, even with 8mm rope, is 36kN.
The Aztek pulley kit includes 1 Aztek Pulley Set (2 pulleys (Max Rope Diameter: 8mm, Working Load: 2 x 2kN x 2=8kN), 1 pin, 1 cover), 1 Aztek Rope Set (50' of 8mm rope, 2-6mm Ratchet Lops, 1-6mm Travel Restraint Loop) and One Aztek Bag.