SCOTT 2025317 Spirit SX unit (inc charger, battery pack & belt) POWERED RESPIRATOR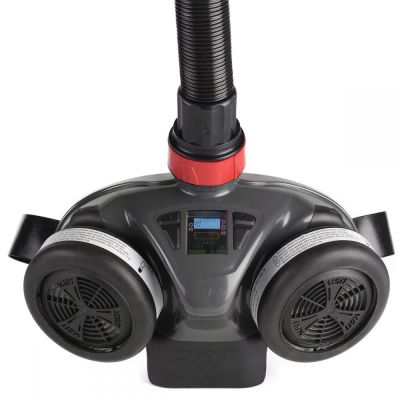 SCOTT 2025317 Spirit SX unit (inc charger, battery pack & belt) POWERED RESPIRATOR
Intelligent and adaptable powered air respiratory system from Scott Safety 
Introducing the next generation of powered air respirators, the
Spirit range offers an advanced level of electronic controllability
and is fully programmable to meet the precise needs of both the
user and their application.
CONTROLLABLE AND ADAPTABLE
- Two models, Spirit and Spirit SX, provide a choice for the
owner to select the level of controllability and
programmability required for their application.
- Both models offer airflow adjustment with particle filters to
allow for site specific settings and providing comfort for
the user no matter the environmental hazard.
- Many other preference settings, inspection intervals, and
operating acknowledgements can be adapted , providing
customised alarms for improved user safety.
APPLICATION SPECIFIC
- Scott provides the widest choice of both general and
specialised powered air headtops and facemasks, allowing
you to select the most appropriate for the user and the most
suitable for the application.
- The Spirit system operates with a choice of particle (P) and
several combination (AP, ABEP and ABEKP) filters.
LOW THROUGH-LIFE COSTS
- The motor is guaranteed for 3 years or 1800 hours run
time (excluding battery), keeping PAPR maintenance costs
to a minimum.
- Airflow is optimised and set at a constant level to ensure
maximum service life from combination filters while
providing comfort to the user.
- Drop in replacement modules allow for fast and simple
replacement of parts to minimise down time & costs
associated with replacing parts that get damaged.
The Spirit powered air purifying respirator (PAPR) system provides adaptability and controllability,
enabling users to achieve a new level of precision in meeting their comfort and performance needs.
• Large colour display with simple icons to show flow
rate / filter type / battery status / alarm conditions
• Flow maintained electronically for different
headtops and filter clogging
• Adjustable flow with Particulate filters between 170
l/min and 220 l/min, steps set at 170, 180, 200 and
220 l/min
• Locking filters to prevent accidental discontinuation
• Audio and visible battery and flow alarms in high
ambient noise levels
• Diagnostic check at start up to ensure unit is
performing properly
• On-board data logging of hours run and flow rates,
downloadable by Service Centre /Scott
• Available with a range of hose types
spirit sx - in addition to spirit features
• TFT colour display displaying flow rate / filter type
/ battery status % / time and date / user ID and
alarm conditions
• Automatic recognition and display of filter and
head top types
• Programmable inspection / service intervals and
optional product blocking with digital indication
• Alarm if filter is not fitted and prevent start up or
dislodged in use (Combi filters)
• Non-operation until two same type filters correctly
fitted
• Additional vibrate alarm
• On-board data logging of hours run, flow rates and
alarm events, downloadable by User via mini USB
• User ID features which includes programmable user
name, clock number and ability to select ID colour
• Real-time date and time display
Approvals: EN12941 & 12942 (TH1/TH2/TH3/TM3). CE 0121.
Air flow: Min 170 l/min, automatic adjustment.
Battery: Rechargeable, Li-ion 11.1v 5.2Ah
Battery operating time 5-8 h from a single charge, depending on the filter/facepiece combination
Charging device: 6 h recharging time. Automatic trickle charge.
Power pack status indication: Visual display of battery status (A), filter blockage (P). Warning buzzer of
low battery status; running time ca.15 minutes left.
Weight of unit without filters: 1,4 kg
Sound level: < 70 dB
Temperature range: -10 °C … + 50 °C
Humidity: < 95%
Recharging temperature: Recommended recharging temperature ca + 20 °C
Ingress Resistance: IP55