SCOTT C420 PLUS CBRN POWERED AIR-PURIFYING RESPIRATOR #200710-30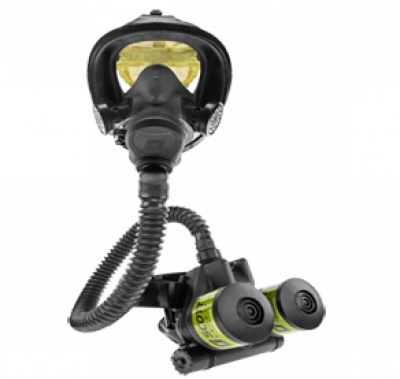 SCOTT C420 PLUS CBRN POWERED AIR-PURIFYING RESPIRATOR #200710-30
#200710-30 C420 CBRN KIT comes with Blower, LiSO2 Battery, Decontamination Belt and 30" CBRN Breathing 
The Scott Safety C420 Plus PAPR is designed for use in demanding
CBRN environments that require a dependable, powered air-purifying
respirator. The PAPR blower is EMI shielded to Mil-STD 461C and will
not interfere with radio communications. It is protected from water
and dust damage, and can be easily decontaminated. The C420 Plus
PAPR is ideal for fire departments, law enforcement agencies and
federal first responders who require non-IDLH respiratory protection
over an extended period of time.
IOSH CBRN APPROVED
The C420 Plus PAPR is NIOSH CBRN approved when used
with specific AV-3000 SureSeal, AV-2000 or M120 facepieces,
CBRN Cap-1 Canisters and approved breathing tubes.
REDUCE INVENTORY WITH DUAL USE FACEPIECES
The C420 Plus PAPR can be used with a variety of facepieces,
including the AV-3000 SureSeal, AV-2000 and M120. These
facepieces are also easily converted to APR use, simplifying
your inventory requirements.
BATTERY OPTIONS
The C420 Plus PAPR comes standard with a lithium sulfur
dioxide (LiSO2) BA 5800 battery pack. This battery has
a run time of up to eight hours and a 10-year shelf life. A
rechargeable, NIOSH approved, nickel metal hydride (NiMH)
battery is also available.
NON-CBRN USAGE
When used with other approved 40mm cartridges (P100/HE,
MPC40PF, MPC Plus or Enforcement), the C420 Plus PAPR
is NIOSH approved for protection against toxic industrial
chemicals (TICs). Additional facepieces are available for
non-CBRN use.