Swellpro Waterproof Splash Drone 3 Auto with 4K HD Camera Live Video and GPS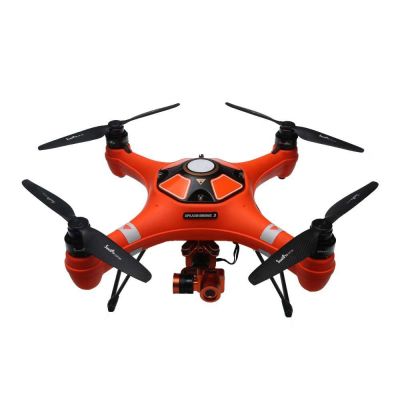 Swellpro Waterproof Splash Drone 3 Auto with 4K HD Camera Live Video and GPS
Product features
World's First Modular All Weather Waterproof Drone
Waterproof 4K HD Camera with 2 Axis Gimbal
Durable Waterproof Frame and Motor - Launches & Lands ON or OFF the Water
All-in-One FPV Remote Controller with LCD Screen for Live Video Feeds and Incredible Views
Safe Flying Features with Follow Me, Mission Planning, Tap-to-Fly, Return Home, Auto-land, Low Battery Alerts and dual GPS/GLONASS
The Splash Drone 3 Auto is the most advanced Splash drone ever released. It's the first fully integrated modular amphibious flying platform. With a new quick release module system, you can now enjoy maximum versatility. The Splash Drone 3 Auto allows you to operate in all weather conditions, in tough environments - whether it's over land or sea. With its advanced modular design, Splash Drone 3 can quickly adapt to all types of missions, from aerial filming, to search and rescue on the water, or for ocean survey work, fishing and many other applications. 
Key Features 
Waterproof 4K camera with 2-axis gimbal
Durable waterproof frame - custom coated, saltwater resistant and buoyant
New quick release carbon propellers
All-in-one remote controller
4K Camera 
The fully waterproof 4k camera with integrated 2 axis gimbal provides you the unique ability to capture smooth, stable videos and pictures while flying in the sky or under the water surface. It is just like a tripod in the air, ensuring smooth footage at all times, while the Splash Drone Auto is in full flight. 
Fly Smart and Safely 
By linking a mobile phone to the ground station, the Drone changes from joystick control to a few screen taps on the Swellpro APP. This enables several smart flight modes, which make flying easy including: Follow Me, Mission Planning, Tap-to-Fly, Return Home, Auto-land and Low Battery Alert 
Includes: Splash Drone 3
Propellers
FPV Controller
Landing Gear
Carrying Case
Battery and Charger
4K camera and 2 axis gimbal