TNT STORM EBFCC-28 Brute Force Combination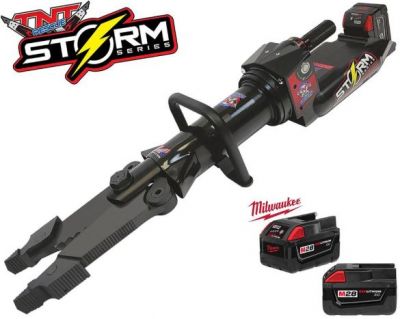 TNT STORM EBFCC-28 Brute Force Combination
Primary Spreader - Secondary Cutter
The STORM Series of battery powered extrication tools from TNT Rescue are designed with the same power, performance and ease of use you have come to rely on from TNT Rescue. TNT Rescue STORM series rescue tools also feature an extremely low cost of ownership and operation as compared to other battery operated rescue tools. All STORM Series rescue tools are made in the USA and are backed by TNT's lifetime warranty on all parts manufactured by TNT Rescue. 
Features:
• Blade Design: Primary Spreader – Secondary Cutter
• 286,000 lbs. of spread force.
• 156,000 lbs. of cut force.
• Perfectly balanced and ergonomic design for ease of operation.
• Single button power insures tool is instantly ready to use
• Dual LED lights built into body of tool to illuminate work area. 
• Variable speed deadman control for precise control in critical situations.
• D-shaped wrap around handle for easy operations in all positions
• Handle works for both left and right handed operators.
• Uses open market, easy to obtain, low cost Milwaukee 28V Red Lithium Battery. 
• Includes (2) two 28V batteries and charger.
Red Lithium Battery Technology Delivers:
• 40% More run time
• 20% More power 
• 50% More recharges than conventional lithium batteries
• 20% Cooler than conventional lithium batteries
• Red Lithium batteries will not develop "memory" from constant charging.
• Built-in battery fuel gauge displays remaining charge in battery.
• Designed for extreme conditions down to -40F/-200C.
• Fully enclosed battery cells with shock responsive separators for added protection.
• Battery full charge time: 1 hour or less.
• 3 year warranty on battery from Milwaukee
EBFCC-28 Brute Force Combination Specifications
Max. Working Pressure 10,500 psi 724 Bar
Max. Spread Distance 16.64 in. 422.7 mm
Max. Spread Force 286,000 lbs. 1,272 kn
Max. Cut Force 156,000 lbs. 694 kn
Length 40.80 in. 1,036.3 mm
Width 9.0 in. 228.6 mm
Height 8.31 in 211.1 mm
Weight w/ Battery 51 lbs. 23.1 kg
Power Source 28V Milwakee Battery
Manufactured To NFPA 1936 Yes