U21 Tandem Pulley for Nylon Ropes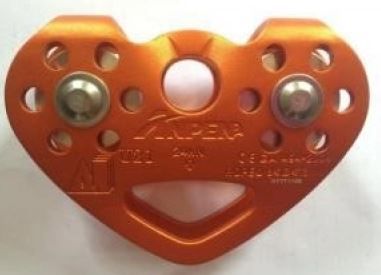 U21 Tandem Pulley for Nylon Ropes
Anpen Tandem Double Pulley for Nylon Ropes only not on Cable
Model NO.:U21

1:Protection
Material:Alu Alloy
Size:75 X 108 Mm
CE:En 12278
Color:Red, Orange
Weight:180g
Application:Safety,Rescue
Rope:8-13mm

Copper cover ropes double pulley, aluminum rescue pulley, can be used only on nylon ropes, not on cable! ( U21)
Rope Diameter: 8- 13 mm
Size: 75 X 108 mm
Weight: 185 g
Standard: CE/EN 12278
Use for pulling system or emergency pulley block with ropes.
Made from High-end Material, Attractive Price.